International transport
In our usual manner, Stockholm was a spontaneous choice. The opportunity presented itself when TAROM (our national company) introduced its Bucharest – Stockholm route at promotional prices. We bought the tickets quite a few months in advance and we decided to visit in May, to enjoy nice weather, but also to avoid July and August crowds.
Accommodation in Stockholm
We knew Stockholm was not exactly what one would describe as a cheap European city, so we "hunted" our accommodation in advance, to find a decent price and a convenient location. After many searches, we chose a double room at Lodge32 Hostel, close to Rådhuset metro station. We initially booked through Agoda, but when we checked the hostel website, we noticed they were offering a 10% discount to all clients who liked their Facebook page, so we took advantage of that deal and decreased our accommodation cost a bit.
Getting around in Stockholm – local transport
From Arlanda Airport to Stockholm centre
There are a few alternatives of reaching Stockholm centre from Arlanda airport; these vary in terms of budget and your need to get there faster:
1. Cheaper, but slower – you can get in Stockholm centre using public transport. We decided to try it upon arrival because we bought a seven day public transport pass for Stockholm from the info centre in the airport and it did not require any additional cost on our part for the Arlanda – Stockholm centre route. We took the 583 local bus in front of the terminal (to Märsta) and stayed onboard until the last stop (Märsta). We then travelled by train to the Central Station in Stockholm. The local train is Pendeltåg. Both the bus and the train, run at approximately 15 minutes intervals, schedules are posted and synced, so you will not have to wait too long for the train if you just arrived by bus at Märsta. Combined, it took us about an hour to get from the airport to the city centre.
2. Convenient price, approximately 35 – 40 minutes – using shuttle bus Flygbussarna, for 99 SEK (apx. 10,5 EUR). We chose this service upon departure to the Arlanda airport because our 7 day public transport pass expired and we had an early morning flight back home. We bought tickets online, received the tickets as a pdf and showed them to the driver directly on our phones. A minus we noticed here, but also on several other shuttle bus companies was the nonexistent Wi-Fi connection, although it was advertised. But other than that, the bus was comfortable. The shuttle bus leaves from Cityterminalen, next to T-Centralen. Double check if you are on the right bus, because Cityterminalen is a common departure point for many destinations.
3. Expensive, but fast – using the Arlanda Express train. It is the most advertised option, next to expensive taxis. You will get in the city centre in about 20 minutes, but the price for an adult is 280 SEK (apx. 30 EUR).
Getting around in Stockholm – local/regional transport
As you probably imagine, Stockholm's public transport system is very well organised. It is very easy to navigate the city, even if you have to change several means of transport (metro, bus or tram). You can find all the useful info on the official SL website: Storstockholms Lokaltrafik (SL).
Stockholm Region is comprised of 3 transport areas (A, B, C) which include some attractions worth visiting. There are many convenient ways to navigate the city and it is best to estimate how many trips you will take at a minimum, to see which way works to your advantage. We chose a 7 day pass which allowed us to use all means of public transport, including the ferries between Slussen and Djurgården (operated by Waxholmbolaget), in all Stockholm region (which is quite large, as you can see in the map of SL areas). The pass was also useful for one-day trips with local trains and buses (SL) to Sigtuna and Norrtälje. Getting to Uppsala required a supplement for an area in Uppland region.
Pay attention to the trains, so you do not mistake SL for SJ. You need separate tickets for journeys with SJ trains (Statens Järnvägar – national railroad company).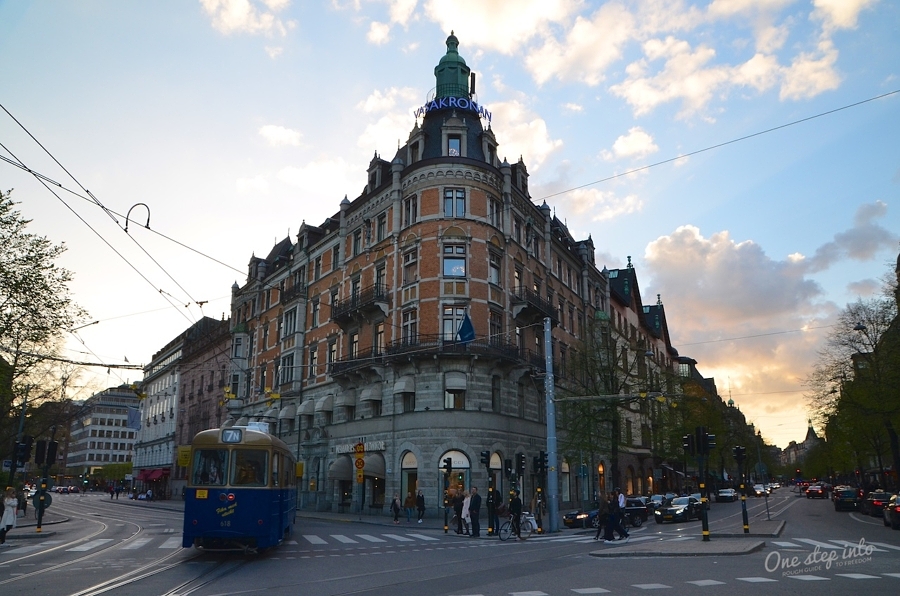 When it comes to individual tickets, costs are calculated based on the number of areas you travel in and the ticket type. You can transfer between several means of transport until the ticket expires. Tickets for one area or two areas are valid for 75 minutes since validating, while the three areas ticket expires after 120 minutes.
Ticket prices vary and it is recommended to purchase a ticket before reaching the validation point, because you will pay extra there. You cannot purchase tickets on board in buses and the fines are substantial.
Prices for individual tickets, for those bought via SMS or by smartphone app are:
1 area: 36 SEK – apx. 3,8 EUR
2 areas: 54 SEK – apx. 5,7 EUR
3 areas: 72 SEK – apx. 7,6 EUR
A cheaper way is to buy a SL Access card which you can top up with pay as you go credit. The card itself costs 20 SEK – apx. 2 EUR, and the minimum recharge value is 100 SEK (apx. 10,6 EUR). By using this card, prices are:
1 area: 25 SEK – apx. 2,6 EUR
2 areas: 37,5 SEK – apx. 3,9 EUR
3 areas: 50 SEK – apx. 5,3 EUR
For tourists, the most popular choices are 24 hours passes (paper ticket – 115 SEK – apx. 12,2 EUR), 72 hours (paper ticket – 230 SEK – apx. 24,4 EUR) or 7 days (plastic card – 320 SEK – apx. 33,9 EUR, you pay 20 SEK for the card).
Tip: Stockholm Metro is famous for its unique and full of colour stations. The most attractive and photographed ones are: T-Centralen, Kungsträdgården, Thorildsplan, Stadion, Solna Centrum, Tekniska Hogskolan, Rådhuset.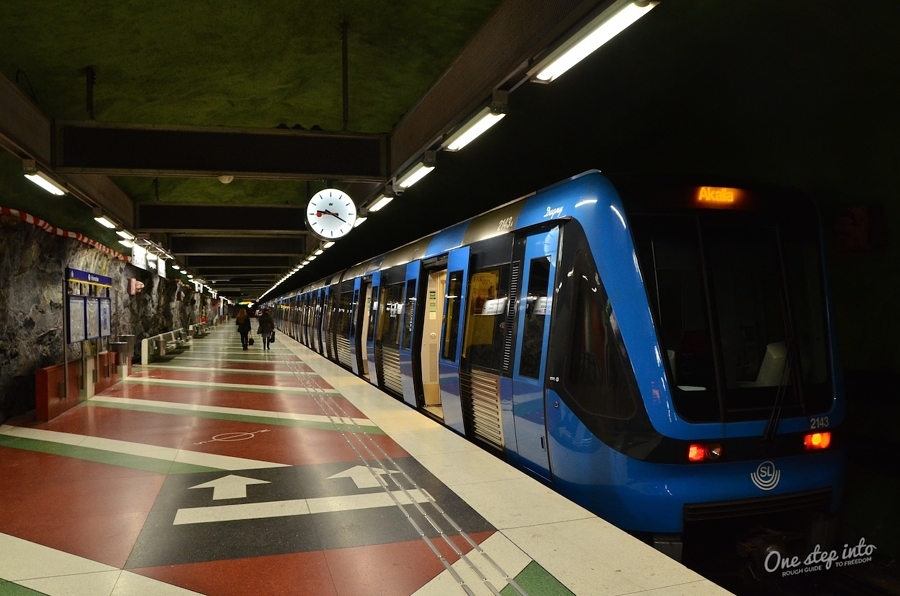 If you want to discover another form of artistic manifestation, you can join a guided tour of the metro stations in Stockholm. The tour is free and it is available in English in June, July and August and in Swedish throughout the year. The exact schedule can be found on the SL website, under the Contact section.
Getting around Stockholm by water transport
You will have to purchase tickets from one of the operators (public or private), if you want to reach the islands. There are several companies operating the same routes and it is best to choose depending on your schedule, price and comfort level. We had just a taste of the archipelago and visited Fjäderholmarna with Waxholmsbolaget ferry (the equivalent of SL on water), departure from Nybrokajen terminal. We also visited Drottningholm palace with Strömma, departure from Strömkajen terminal.
If you are interested in visiting the archipelago, it is useful to know in advance what terminal the ferry will depart from. Most ferries depart from Slussen kajen, Strömkajen, Nybrokajen or Klara Mälarstrand.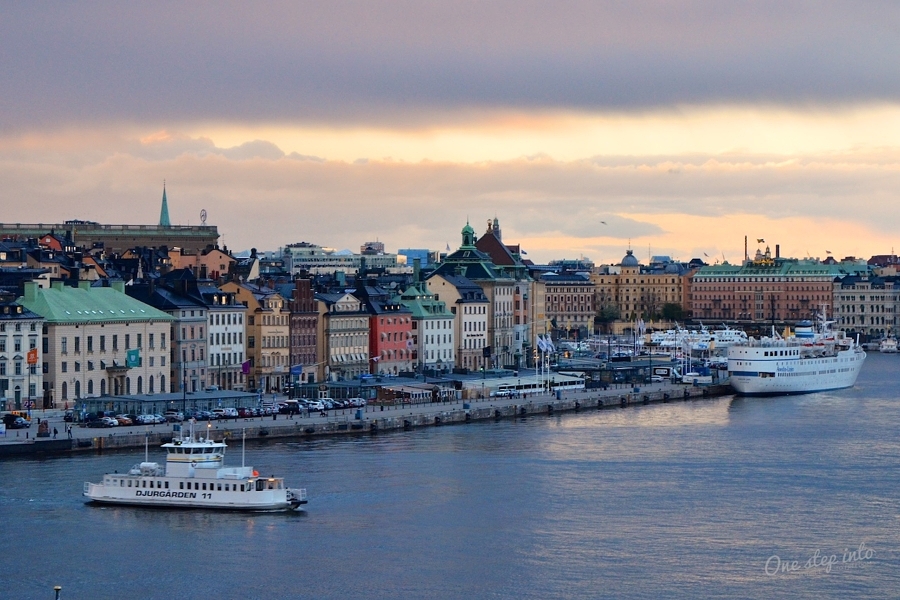 Stockholm pays great attention to order and details when it comes to public transport. We particularly liked the information accuracy and their availability. And these things lead to greater efficiency and more time for us to discover Stockholm's attractions.